When I wrote the first article about how to test Web Services using soapUI,  I got an overwhelming response from the testing community encouraging me, and motivating me to write more useful soapUI tutorials. In this article, I am going to write about some working sample Web Service WSDL URLs for testing with soapUI.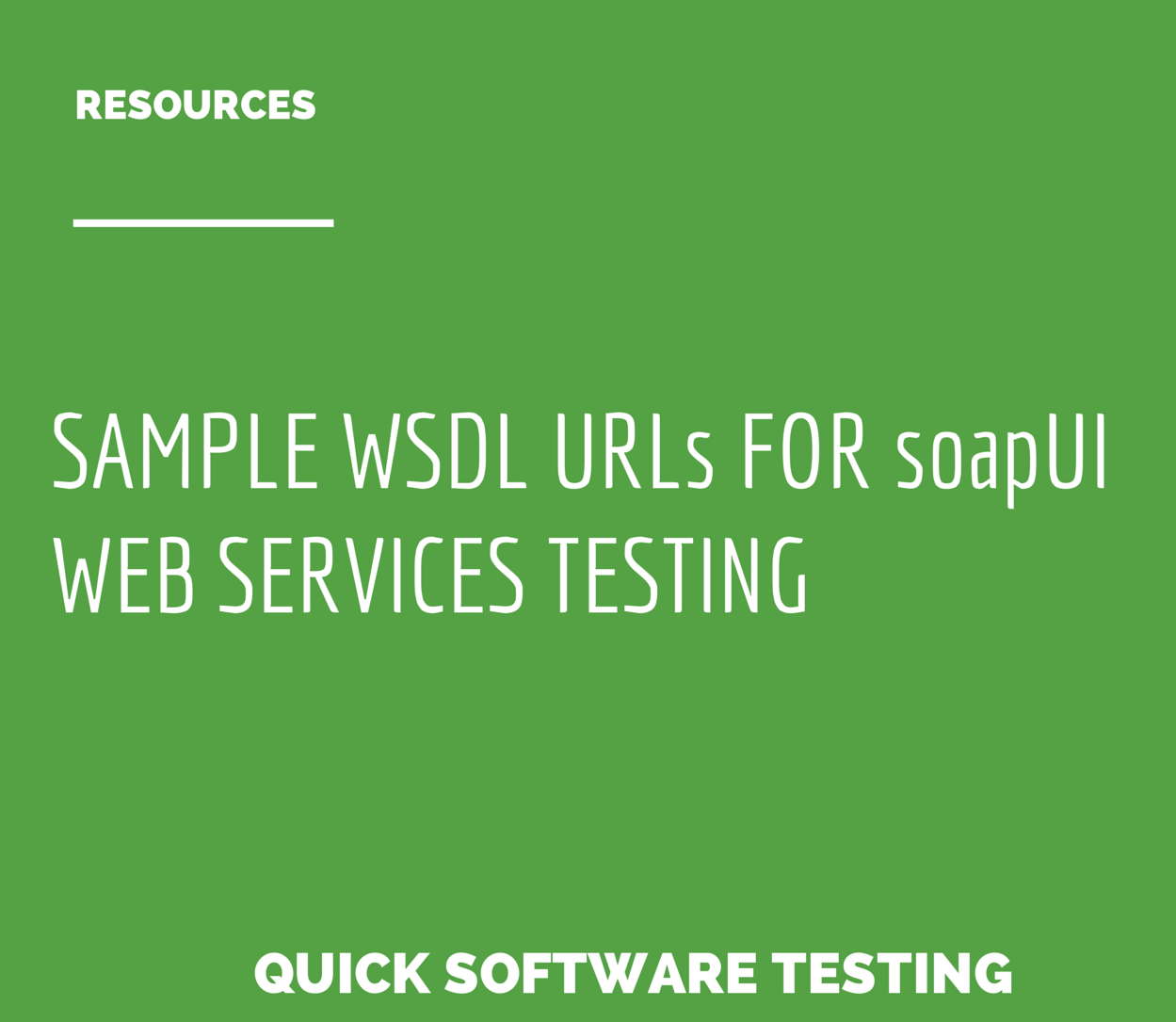 After the first introductory article about soapUI, I also wrote about troubleshooting for soapUI memory issue and for the kind of response you have given via comments and emails, I am thankful to you all. Thanks for your support!
Having a sample soapUI WSDL URL is of a great help when getting used to how SOAP / REST services work.
You can easily get used to how SOAP / REST requests form and get acquainted with how the web service response looks like and how the SOA/Web Service architecture works.
Working WSDL URLs for Testing with soapUI
Here is a list of working sample WSDLs for soapUI Web Services testing.
Note: All the WSDLs on this list are working at the time of writing this article and I will keep updating it as and when I come across new working WSDL files. So, I would suggest you to bookmark this article to load the latest version of this post!
#1. Global Weather Soap: This WSDL generates 2 service operations, GetCitiesByCountry (to get a list of all the cities for any country) and GetWeather (to get weather for any city/country combination).
WSDL URL: http://www.webservicex.com/globalweather.asmx?wsdl
#2. US Weather by City Zip Codes: This WSDL generates 2 interfaces using which you can current Weather and Weather Forecast for next 7 days for any US city (using its Zip Code).
GetCityForecastByZIP – Allows you to get your City Forecast Over the Next 7 Days, which is updated hourly.
GetCityWeatherByZIP – Allows you to get your City's Weather, which is updated hourly. U.S. Only
[U.S. Zip Codes Only – You can get
US post codes from here
]
WSDL URL: http://wsf.cdyne.com/WeatherWS/Weather.asmx?WSDL
#3. Bank BLZ Service (Bank Sort Codes): This WSDL generates request and response for a web service using which you can fetch Bank Sort Codes (called Bank BLZ codes) for banks in Germany.
In the request, you need to pass the BLZ code for any bank in Germany and it comes back with the bank details. You can get plenty of Bank BLZ codes at blzcodes.com.
WSDL URL: http://www.thomas-bayer.com/axis2/services/BLZService?wsdl
I hope you like this list of sample soapUI WSDL files.
Happy Testing!
P.S. – All the WSDLs on this list have been tested before posting here. I will be updating this list on a regular basis, so you can bookmark this URL for future references.